Must-see at the Accademia Gallery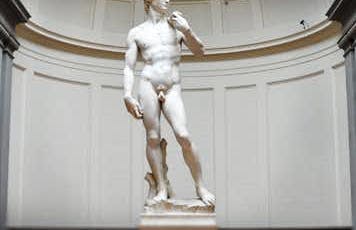 David by Michelangelo
Michelangelo's David took almost three years to be completed. To this day, this sculpture stands as a representative of Renaissance art. The statue is 14 feet in height. It was originally planned to be a part of the Cathedral of Florence. Michelangelo's David is currently housed in The Tribune at Accademia Gallery. It was placed under a skylight which appears like a halo above the structure. Rape of the Sabines by Jean de Boulogne
Rape of the Sabines is another interesting work at the Accademia Gallery. It has been placed in the Hall of the Colossus. The plaster cast model was created by Jean de Boulogne (or Giambologna). The model consists of three figures. The characteristic feature of the model is its realism and intricate detail. The figures are seen to be engaged in a serpentine motion. The entire structure was cut from a single block of marble. Jean de Boulogne was known for his depiction of the human body, and this structure exhibits his expertise. Coronation of the Virgin by Jacopo Di Cione
Panel paintings are quite popular in Italian historical structures. However, very few matches up to the grandeur of Coronation of the Virgin by Jacopo Di Cione. The painting was restored in 2011 and has since held its place at the Accademia Gallery. The painting glows because of the base of golden color used in it. Since the magistrates of the Mint ordered this painting, Jacopo Di Cione decided to leave a mark of it in the painting. Slaves by Michelangelo
Michelangelo left this work of his incomplete. However, some scholars seem to think that it was left in its current state intentionally to drive home the meaning of the sculpture. Scholars believe Michelangelo wanted to show the sheer helplessness of the slaves by leaving the sculptures incomplete. Slaves comprises of four male nudes, namely The Awakening Slave, The Young Slave, The Bearded Slave, and The Atlas (or Bound). Once a part of a grand project, these statues hit roadblocks until they were abandoned. Tree of Life by Pacino di Buonaguida
The Tree of Life also attracts a number of admirers on a daily basis. The Tree of Life is a work of genuine expertise by Pacino di Buonaguida. The basis of the work lies in the Book of Genesis, as the name might suggest. The Genesis of creation and fall is represented in the painting. Christ, in his crucified state, appears as a tree, with branches extending from his trunk. From each branch in the tree hang ornaments that depict significant biblical events.
Select Your Tickets